You Cannot Shoot a Poem 
LSU Press 2018
With clear and powerful imagery, these poems reveal an urgent need to rethink the way we interact with each other and the planet. Touching on racism, environmental exploitation, and failed political diplomacy, Closson Buck relies on the ability of poetry to enter otherwise hidden or forbidden territories. Closson Buck transports readers to the abandoned city of Varosha, Cyprus, with its history of interethnic violence; to Venice, Italy, as the water in the Lagoon rises; to Niagara Falls, New York, where she sets a personal moral compass against environmental degradation and religious zeal. She examines the decline of these cities with precise attention to the lives caught in the current. Sometimes satiric and sometimes elegiac, You Cannot Shoot a Poem inhabits a troubled world while inspiring confidence in the human ability to create change.
"Paula Closson Buck is a rare poet whose sharp observation is equal to her wit, her wit supported by her intelligence, and her intelligence fully engaged with a passion for beauty that is both sensual and ethical. You Cannot Shoot a Poem is a brilliant book, powerful and tactful, engaged and adroit."
 –Margaret Gibson
Buy You Cannot Shoot a Poem from Amazon.com or LSU Press
Read poems from You Cannot Shoot a Poem:
The Negotiation, Men in Rooms, and Nostalgia with Pink Flamingo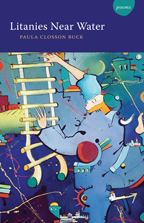 Litanies Near Water
LSU Press 2008
Infused with Mediterranean landscapes, the poems of Paula Closson Buck's second collection probe the world through language that acts sometimes like a divining rod and sometimes like a lightning rod. Elegant meditative lyrics such as "You Cannot Love the Wind" and "Theory of an Impersonal God" answer to politically alert poems like "Monk Killed by Tractor in Bid to Dodge Police." Ultimately, in Closson Buck's deft hand, the lyrical quest for understanding becomes a form of diplomacy between the physical and the metaphysical, between instances of beauty and the violence that threatens daily.
"[These] poems have all the properties of the ecstatic: incantatory grace, devotion to the particular, a desire to see beyond. But in a world where violence continues to dominate consciousness, whether at large in the form of genocide and war, or in our own backyards in the relentless patterns of nature, the 'beyond' seems a luxury that Closson Buck must resist: 'Anything / but ecstasy I can believe.' These poems are as tough-minded as they are beautiful, and they are very beautiful. But it is their proximity to silence–that particular silence we find at the heart of great poetry–that imbues them with extraordinary power and resonance."
–James Harms
Buy Litanies Near Water from Amazon.com or from LSU Press
Read poems from Litanies Near Water:
Report from My Own Backyard
Landscape with a Very Fat Man, Seated
Elegy for My Novel
The Acquiescent Villa
LSU Press 1998
In her first book of poems, Paula Closson Buck writes the way Picasso paints — with slanted angles of approach and departure that give us the human heart passionately at work. A restless explorer of the world as body, the body as world, she is acutely aware of the ways in which language creates and sustains these spheres, bringing them sometimes into collision, sometimes into balance.
"The celebration in these poems is so probing and relentless it approaches an incandescence of mind itself. But it's never pure. The impure, that is, the world in its materiality, is always hugely present in Closson Buck's lines. What a gift."
–Li Young Lee
"These are powerful, daring poems, and a new voice is immediately audible in them. They are original in that they speak with authority out of one life, the light and hope and pain that play through it, the moments and singular details they touch upon. The Acquiescent Villa is a remarkable debut, and Closson Buck, I believe, is already a poet to read with care, and to watch for."
–W. S. Merwin
Buy The Acquiescent Villa from amazon.com or from LSU Press